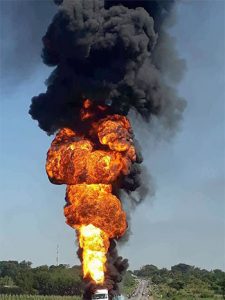 According to the latest reports from Butende in Iganga busia road, news has it that there has been a truck that has been involved in an accident on Sunday 18th June 2018. Besides all, the truck which has a fuel tanker, also caught fire and hence exploded on the spot.
It is reported that atleast three individuals were injured following the mishap at Butende. Police arrived at the scene and were forced to use tear gas so as to disperse citizens who were trying to access the tanker so as to syphon some fuel from the on-fire tanker.
In another incident, a fuel tanker belonging to GAZ company, UANO37L arrived at a scene where a fuel tanker has rolled over on Saturday night to transfer the fuel from it. Apparently, by bad luck, it caught fire from its engine and hence caught fire just before it's departure.
The district police commander Iganga District Police Commandant, Nassibu Nittany has cautioned members of the public over such acts as they can easily lose their lives as fuel is always very dangerous.