Russia coup 2023 as Wagner troops capture Army HQ and advance to Moscow.
President Putin has described Wagner's insurrection as a 'stab in the back' as Yevgeny Prigozhin's mercenary advance to Moscow, the capital of Russia.
A senior Kremlin official has cautioned that a thriving insurgency by the Wagner group would mean the mercenaries getting hold of Russia's vast nuclear arsenal and raising an existential threat to the entire world.
"The history of mankind hasn't yet seen the largest arsenal of nuclear weapons under control by bandits," Dmitry Medvedev, the deputy head of Russia's Security Council chaired by President Vladimir Putin, said in remarks carried by Russian news agencies. "Such a crisis will not be limited by just one country's borders, the world will be put on the brink of destruction."
He added that "We won't allow such a turn of events."
Medvedev has frequently used hardline rhetoric since Russia sent troops into Ukraine, regularly reminding the West about Russia's nuclear arsenal in a bid to discourage the US and its allies from ramping up weapons supplies to Kyiv.
Medvedev described the rebellion as a "well-planned operation aimed at seizing power in the country." He claimed that some veterans of elite Russian military units and foreign actors could have been involved in it.
Moscow residents urged to limit their movements
The mayor of Moscow has advised residents to limit their movements and confessed on Saturday evening that the crisis was "difficult" in the Russian capital.
Forces from the Wagner paramilitary group are traveling toward the Russian capital, and the mayor has declared Monday a non-working day to limit travel.
"The situation is difficult," Sergei Sobyanin admitted bluntly. "In order to minimize the risks (…), I have decided to declare Monday a day off", except for certain activities and municipal services, added the mayor.
Latvia closes its border with Russia
Latvia President-elect Edgars Rinkēvičs declared on 24th June 2023, that his country has tightened security at its borders. This follows the ongoing rebellion in Russia and further stated that it will no longer allow Russians to enter its territory.
"Latvia is closely following the developing situation in Russia and exchanging information with allies," Rinkēvičs wrote on Twitter Saturday afternoon.
Russia coup 2023 by Wagner troops, summary
The Kremlin accused the boss of the private paramilitary company Wagner of attempting to stage a coup in Russia in 2023.
Yevgeny Prigozhin insists his forces are "patriots" who have the support of the Russian people.
Prigozhin says Wagner troops captured the Russian army HQ in Rostov-on-Don without firing a shot.
In a speech to the nation, Vladimir Putin described Wagner's actions as a "stab in the back."
Ukraine's President Zelenskyy says that in Russia there's "so much chaos, no lie can hide it."
Yevgeny Prigozhin statement
Prigozhin said: "We don't fight children. Shoigu kills children. He put 18-year-old boys against us. These guys will live and go back to their mothers. But we will destroy everything that gets in the way."
"We are turning our columns around and going back to field camps," Yevgeny Prigozhin announced after vowing to march on Moscow to topple the military leadership.
He said he understood the importance of the moment and did not want to "spill Russian blood."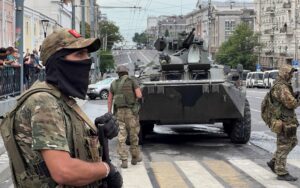 The Russia coup 2023 news has left Putin's forces in disarray or confusion as they are also focusing on Ukraine.
Lastly, Ukrainians are delighted about what is going on in Russia's coup endeavors as this would mean a win for them. Check out all the live developing news in Russia's coup attempt by Wagner in 2023.
SOURCE: 👉🏻👉🏻Live in Russia