Willis Raburu's Wife Mary Ngami Unmasked. Popular Citizen TV presenter Willis Raburu and his wife recently walked down the aisle affectionately. They held a secretive wedding ceremony few years ago and the 10 over 10 co-host is not ashamed to show his beautiful wife to the public. According to Raburu, Mary Raburu has helped him get closer to God, that she's also been praying for him on a daily basis. He also goes to add that she's made him become a better man by encouraging to pray and maintain a healthy body by eating well.
The two love birds are very religions and can be seen going together to church and praying Every Sunday. Well, for those who don't know Raburu's partner, here are the five things you should know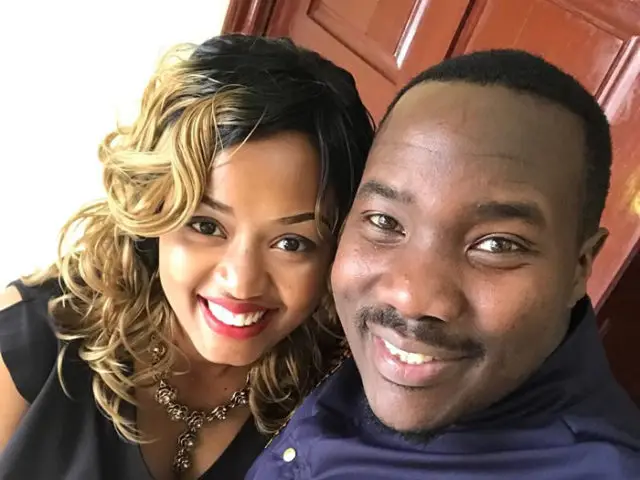 She is religious
Mary Raburu is a staunch Christian. She is a member of the famous Jubilee Christian Church led by Bishop Allan and reverend Kathy Kiuna. And just like the other daughters of Zion, Mary is a great supporter of 'Mum and Dad' and she always posts a lot about them.
She is a naturalista
Mary Raburu is different from these city women who spend thousands on weaves and wigs just to be more attractive. She is very simple. She mostly rocks short hair or common Abuja braids. On her birthday, she rocked a simple sisal weave compared to other women who go for expensive stuff on their wedding day.
She got engaged about some years ago
Mary got engaged to Raburu in April 2017 and she kept it a secret.
"And I said…YES!!! #ForeverAndAlways #JourneyOfLove," she posted this exactly 11 weeks before they got engaged accompanied by a photo flaunting her engagement ring.
She is 'overprotective'
Also, Mary cyber stalks her husband Raburu. She keeps liking his twitter posts so ladies don't dare slide into his DM maybe she has all the passwords to his social media accounts. Cheza safe! Willis Raburu's Wife Mary Ngami Unmasked
She is from Murang'a
And finally, Hapa Raburu aliangukia! Murang'a women beat their counterparts from the mountain, 10 nil. They are the best wives, submissive and unlike their Nyeri sisters who fight their men and thrive on controversy.