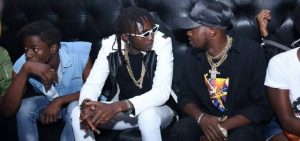 Ziza Bafana is artist that has for quite a long time been off the mainstream media. Infact, many individuals had even forgotten about him, as others had even started putting him off that he no longer has a tune for his fans.
Apparently, Ziza Bafana is back to the music showbiz industry and has come back witha buzz hit song called "Nazaala" that he released in May-June 2018. Just for all those who were doubting his precense, Ziza Bafana had a show on Thursday night, 28th June at Club Amnesia and indeed he really rocked the place.
Club Amnesia is usually attended mostly by Campus students. Ziza Bafana rocked the club with some of his popularly known songs like pomini, Agende, Katonda wa ragga and many other more of his tracks. Other big names that were at Club Amnesia were the Galaxy FM Deejays, Switch, Nimrod, Herbert, Denno and others. This was a reminder by Ziza Bafana to everyone that he is back to the game.
More news to follow…..