According to latest reports, Zari Hassan new boyfriend King Bae bought her a house in South Africa as a reward. Even more, this will their homestead following an upcoming private wedding that is still not revealed. In contrast, Zari shared a clip of the house which they ought to move in once it's finished.
In one of the most astonishing clips, Zari is seen happily serving King Bae with her best in kitchen meal. Further, she is seen dancing while excited on her heels in the new homestead.
In another picture, Zari Hassan is seen seated right outside the compound in a stripedwhite and pinky short dress. However, this time not with her much loved hair extensions clearly letting King Bae appreciate her beauty with her real hair.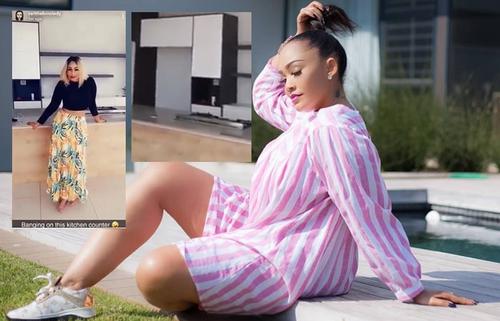 Most noteworthy, Zari has four houses, of which the first one was from Diamond Platnumz which was her birthday present in 2016. Similarly, three from her late hubby, Don Ivo and with King Bae who is more than determined than Zari's previous lovers. Certainly, Diamond Platnumz gave Zari a crib as a birthday present, but King Bae is considering a Bentley as an engagement gift. This Bentley is probably or goes for at least a billion shillings.
"I have been there before and still doesn't make any sense to me. Yeah, I'm weak, I need to accept, you wanna know why I give my all, I build my men, I'm not the type that takes, I'm the type that looks at what we have and consider how we can double and triple the blessings."
The above message was also directed to those who wanted her to leave Diamond Platnumz's crib, but also give assurance to King Bae that with Zari, it only gets better.