Sheebah Karungi Swag Mama Biography. First of all, Sheebah was born on the 11th of November 1989. She is a Ugandan recording artist, dancer, and actress in Queen of Katwe acting as Shakira. Sheebah karungi started singing while still in school. However, she dropped out of school because her parents couldn't afford school fees hence she decided to concentrate on music.
In early 2000s, Karungi joined a girl music group called Obsessions managed by Ronnie Mayanja. The ladies were performing Karaoke in different clubs and bars as a group. As time went by, they started recording its own songs that became instant hits all over the country. As a result, they were holding concerts all over the country. However, they broke up their union and each one of them went separate ways. After quitting the group Obsessions a dance group she joined in 2006, she rose to fame upon the releasing the hit song "Ice Cream".
Sheebah Karungi Swag Mama Biography and Success
Sheebah venture into music as a solo artist moving around bars and clubs performing karaoke. One day she approached Budzz bar and restaurant Manager and sought for an opportunity to be performing Karaoke every night. After her request was granted, she decided to recruit a few dancers with whom she would perform at the bar. Most noteworthy, this was successful as people started flocking to the bar every night they performed and the manager started paying her some money.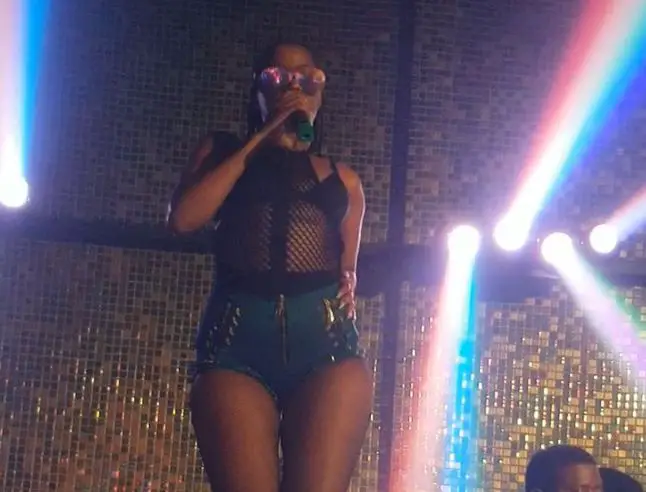 In contrast, most individuals couldn't identify her as a former Obsessions group singer. She then joined Team No Sleep (TNS) under Manager Jeff Kiwa. The hit song Ice Cream was done by Jeff Kiwa after coming to an agreement. Ice Cream became a hit all over the country and officially introduced Sheebah Karungi to Ugandans as one of the top female music artists in Uganda. Even more, she released other hit songs like Twesana, Nkwatako, and others that have conquered the Ugandan music industry.

Sheebah's success in the music has enabled her nominated for awards both locally in Uganda and abroad. For example, the Mama awards in Nigerian capital of Lagos. Furthermore, Sheebah also got an opportunity to do collabos with artists like Solidstar from Nigeria with whom they did Nkwatako remix. Locally, she has managed to do collaborations with music artists like Ykee Benda, Aziz Azion and many more.