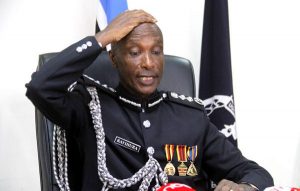 Former Inspector General of Police, Gen Kale Kayihura is probably not so lucky to escape all the unlawful, inhuman things he did while in power. Kayihura served in the government for about 13years before President Yoweri Museveni sacked him in March 2018.
Kayihura was arrested by the army and is now detained at the Makindye Military Barracks.
How Former IGP Gen Kale Kayihura Was Arrested
The plot on his arrest is now unfolded on how he was intelligently captured when trying to flee out of the country. Kayihura's attempts to flee out of the country failed terribly despite changing cars up to three times a day, on a later course when he was fished out of a car boot in Mburo National Park. According to some sources that were very closely unfalse about Kayihura's mess, this is what was openly said. Have a read of the words in quotes beneath:-
"…..we found out that Kayihura had placed his known phones in a Toyota Premio and instructed his driver to head to Kabale. Meanwhile, Lt Gen Wilson Mbadi called Brig Kayanja Muhanga, the second division commander and instructed him to deploy and block all roads leading to the Rwandan border".
Good enough, one of Uganda's Boda Boda riders saw how Kayihura was being swapped between the vehicles. As a result, he immediately called a police line to report on the shocking incidence. Police boss Brig Muhanga arrived at the scene and captured Kayihura. The police officer took Kayihura to his home and catered for his hygiene and diet. Certainly, Kayihura was looking tired, exhausted and this might probably be because of all the hustle to escape the arrest. This is How Former IGP Gen Kale Kayihura Was Arrested.
We shall keep you updated.