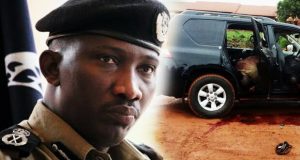 Felix Kaweesi Family Speaks After Kayihura's Arrest. The former Inspector General of Police Gen. Kale Kayihura was arrested recently following the connections of him and other former seniors in the government, being involved in the mur
+der of former Assistant Inspector General of Police, Andrew Felix Kaweesi. Kayihura was arrested by the army while at his home in Kasagama, Lyantonde district, on 13th June 2018.
After news circulated around that Kayihura is among the suspects who were involved in the murder of Kaweesi, the family of Andrew Kaweesi have come up and this is what they had to say about the saga.
"We are still in shock. It is so surprising. But if it is true that the officers arrested were implicated in the murder of Kaweesi, then it is so disappointing because these officers have been there for the family."
The family of the late Kaweesi who live in Kisaasi, Kampala are under good security and the home is somehow almost inaccessible by just anyone. The wife of the late Kaweesi, Annet, did not share any information as she wasn't feeling well, and above all, still in shock since she still couldn't believe about the news. However, the other family members said that they are willing to cooperate in any case need arises following the proceedings surrounding Kayihura.
Speaking on behalf of the family, Leo Ruhinda, a brother to Kaweesi said he was somehow relieved since the case of his brothers death had taken long and nothing had been done. He said he hopes justice shall prevail at the end of the day in the case. "We are happy that arrests have been made and we are ready to face them in court," said Leo Ruhinda.
More news to follow….