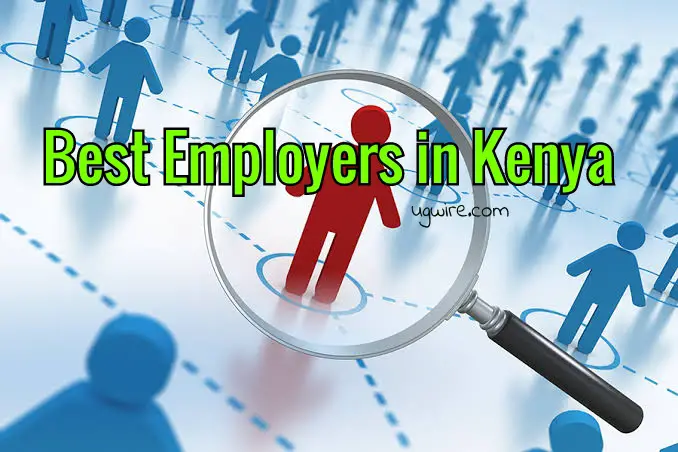 Top 100 Best Employers in Kenya 2020 LIST. We all would want to work with or be employed by the best-paying companies. Be it with little education qualification or a higher academic qualification like a Diploma, Degree, or Masters certificate. It's for that reason that we decided to educate you on the list of the top 10 best employers in Kenya 2020.
First of all, the majority of Kenyan graduates and youths are currently unemployed. According to our findings, over 60 percent of all Kenyan graduates in the past decade are unemployed. On the other hand, 41% of all the unemployed graduates in Kenya are presently self-employed. That means, about 19 percent of all the graduates in Kenya since 2010 are still jobless.
We hope that you are now familiar with the Best-Paying Companies in Kenya this year. However, we decided to educate you on an in-depth insight of the best employers in Kenya for the year 2020. Likewise, if you are a skilled and competent individual, we wish you a successful future in all your desires.
According to BrighterMonday portal reports, the best and top employers in Kenya today are Safaricom, EABL, UN, and KCB Bank. This is because these companies/ firms regularly employ individuals to market their merchandise throughout the country. In other words, it's the reason as to why they are the most prosperous and profitable firms in Kenya today.
List of The Top 100 Best Employers in Kenya 2020
Below is the complete list of the Top 100 Best Employers in Kenya 2020:
Safaricom Telecommunications Company
East African Breweries Limited
Kenya Electricity Generating Company (KenGen)
Centum Investment Company
Kenya Airways
PricewaterhouseCoopers
Kenya Power and Lighting Company
Kenya Revenue Authority
Toyota General Motors
United Nations
KCB Bank Limited
Kenya Pipeline Company
Coca Cola
Deloitte
Unilever
Equity Bank
British American Tobacco
Google
Kenya Ports Authority
Airtel
Britam Holdings Limited
Central Bank of Kenya
Royal Media Services
Nation Media Group
Bidco Africa
CBA Kenya
Cytonn Investments
Bamburi Cement
Barclays
Kenya Red Cross
World Vision International
Standard Chartered
Brookside Dairy Limited
Andela Kenya
Kenya Medical Research Institute
Microsoft
Isuzu East Africa Limited
Kenya Bureau of Standards
Glaxosmithkline
Amref Health Africa
DHL
World Bank
Bonfire Adventures
IBM
Telkom Kenya
National Hospital Insurance Fund
Chandaria Industries
Jumia
EY
Cellulant Corporation
GE
Jubilee Insurance
UNICEF
USAID
Geothermal Development Company
Nestle
Oxfam
Oracle
CITI Bank
P&G
Davis & Shirtliff
Kenya Co-operative Creameries Ltd.
International Livestock Research Institute
Tuskys
CIC Insurance Group
The Nairobi Hospital
Kenya Tea Development Agency Holdings Ltd.
One Acre Fund
United Nations Environment Programme
Kenya National Bureau of Statistics
Total Kenya
Base Titanium Port Facility
Kenya Medical Supplies
Save the Children Kenya
Kenya Ports Authority
Naivas Limited
Bollore Logistics Kenya
Del Monte Kenya
NIC Bank Group
British High Commission
Kenya Electricity Transmission Company
Huawei
Plan International Kenya
Amiran Kenya Ltd.
DT Dobie
Kapa Oil Refineries Ltd.
Samsung
James Finlay
Vivo Energy Kenya
BBC
Carrefour Kenya
Liquid Telecom
ICEA General Insurance
Kenya Seed Company
KNH, Kenyatta National Hospital
Mabati Rolling Mills
Mombasa Cement
KALRO, and finally,
KEPHIS
We hope that you are now acquainted with the list of the top 100 best employers in Kenya for 2020. View Latest Jobs in Kenya currently in 2020