Woman Arrested for Theft Just Three Weeks After Wedlock with her soulmate.
It is very true and at most occasions evident that "Not all that glitters is Gold"; a saying that ought to be adhered to when things seem look that easy. Kampala is one of African cities with relationship sagas and dramas indeed probably not ending so soon.
Woman Arrested For Theft. A woman named Hasifah Madonna is currently in the hands of Police after she allegedly attempted to rob from her 3 weeks old husband just after their marriage. Hasifah Madonna is said to have asked her husband Patrick Kusemererwa for money so as to travel upcountry to her birth home in Bududa to visit her parents.
Apparently, just after the husband Patrick gave out the money to her and left for work, Hasifah tried to win the Lions share on their household assets. The wife packed all household items. They included a bicycle, woofers, television set, a phone and a bale of clothes and departed for the journey. As a result, on her way to a bus station, Hasifah met Patrick. The man quickly alerted the Old Kampala Police.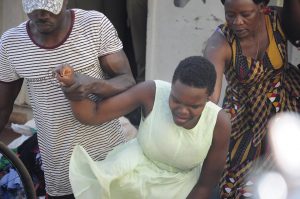 Hasifah was arrested immediately, recorded statement in police. She claimed of being tired of living with Patrick since he was stingy especially on money matters. As well, she wrote that she had found another suitable man suitable and that's where she was heading.
Hasifah is currently under detention at Old Kampala Police Station on theft charges under file number SD Ref 52/19/17/2018.