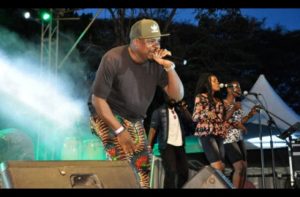 Music Manager Mr. Geoffrey Chagga is now a free man from detention after he was arrested over some financial scandals. However, not everything is smooth or through with the law. After he was released from jail, Manager Chagga has resorted into music shows and showbiz as an artist so as to be able to raise money to clear with the debts he owes.
Chagga was in Jahazi Pier Roast and Rhyme Show in Munyonyo performing as an artist so as to at least raise some money. Chagga was previously an artist before switching to the Showbiz Manager and he was well known with his hit songs like "Nsasira", "Wakayima"and many more.
Manager Geoffrey Chagga Singing Inorder To Raise Money
Manager Chagga has been undergoing some financial struggles ever since the death of Mowzey Radio. According to some sources close to Chagga, this is what he had to say to ugwire:-
"Chagga started struggling financially after the death of singer Mowzey Radio. Weasel is not bringing in any money. Few months ago, he was left in tears after the show he organized at Freedom City along Entebbe road flopped. This left him in huge debts but he is determined to make a comeback. He has already hit studio, and his first song could feature singer Jose Chameleone as negotiations are still ongoing."
More news to follow.