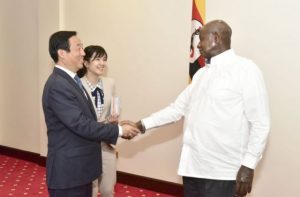 China Invests In Uganda Agriculture and Industrialization. Uganda's economy is set to be on the steady rise with the procurements set by the government. Apart from the progress in Information, Communication, and Technology, Yoweri Museveni decided to boost investments in Industrialization, mining, as well as the agricultural sectors. In a recent announcement, Museveni said that he has invited more investors to the country especially from China to work on these sectors. We hope that you read our previous article on the top Chinese companies in Uganda.
China Invests In Uganda Agriculture and Industrialization
With these investments, Uganda will see more value on its produces e.g coffee, sim-sim, fruits and many more. This is because numerous industries shall be set up in the country and as well, more job openings in short shall be created. In addition, China agreed to invest a rogh estimate of $620 Million in Uganda's Largest Mining Projects.
President Yoweri Museveni was with China's Hunan province Governor Xu Dazhe while in Entebbe State House. Below is what the Yoweri Museveni said:-
"The potential for cooperation between China and Uganda is big. What we want is a reliable market for agro-products. Once we have the demand, we can produce whatever is needed."
According to Museveni, the country has the potential to produce up to 20 million bags from the 5 million bags it produces each year.