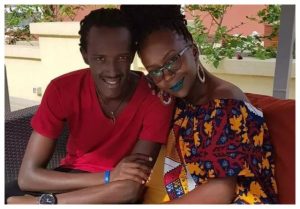 Uganda's sensational on stage entertainer, actress and comedian Ann Kansiime is back on the limelight just after breaking up with her husband Gerard Ojok. According to the actress, she claimed that they separated with her now ex-husband because of financial matters that surrounded them. In a recent interview, comedian Ann kansiime had a lot to share on whether she is pregnant or not?
As of now, Kansiime is under a new relationship with a Ugandan dancehall reggae artist called Skylanta. His real names are Abraham Tukahirwa.
In one of his recent posts on his social media Facebook platform, Abraham posted a photo of him and Kansiime while together. He further mentioned that the female comedian is pregnant. This caused a lot of reactions from his fans and Kansiime's fans but Abraham wasn't afraid about it as he answered/ replied all the questions on the comment section of the post.