This is the latest list of the Kampala Film School in Uganda Fees Structure and Courses offered in 2022.
First of all, Kampala Film School is one of the leading and best film schools in Uganda right now. Certainly, this is because Kampala Film School is an affiliate of Kampala University. For those who have no idea about Kampala University, we shall inform and educate you on all the adequate info.
Kampala University is a privately chartered institution accredited by the government of Uganda. Most importantly, most of the graduates from Kampala Film School are now big names in East Africa Multimedia Industry.
Before we go further, Kampala Film School was established by Andreas Frowein in 2009. This was in substantial aid and backing of Centrum für Internationale Migration (CIM), ARRI, SONY, AVID, and many others. In other words, Kampala Film School is the initial and ancientest Theater school in Uganda.
What makes KFS stand on top of other institutions is the learning mode offered in the school courses. Certainly, students are equipped with an in-depth knowledge of filmmaking in a practical and theoretical approach. Also, it's one of the best sound engineering schools in Uganda today.
According to Cristiano Civitello, Head of Studies, there's a need for media industry practitioners to share ideas, experiences, and many more.

Kampala Film School Fees Structure and Courses 2022
List of the courses offered at the Kampala Film School in Uganda for the year 2022.
Screenwriting/ Dramaturgy
Directing
Production
Cinematography
Editing
Animation
Graphics Design
Sound Design and Engineering. And finally,
Film analysis.
Kampala Film School Fees Structure and Courses 2022 (Uganda)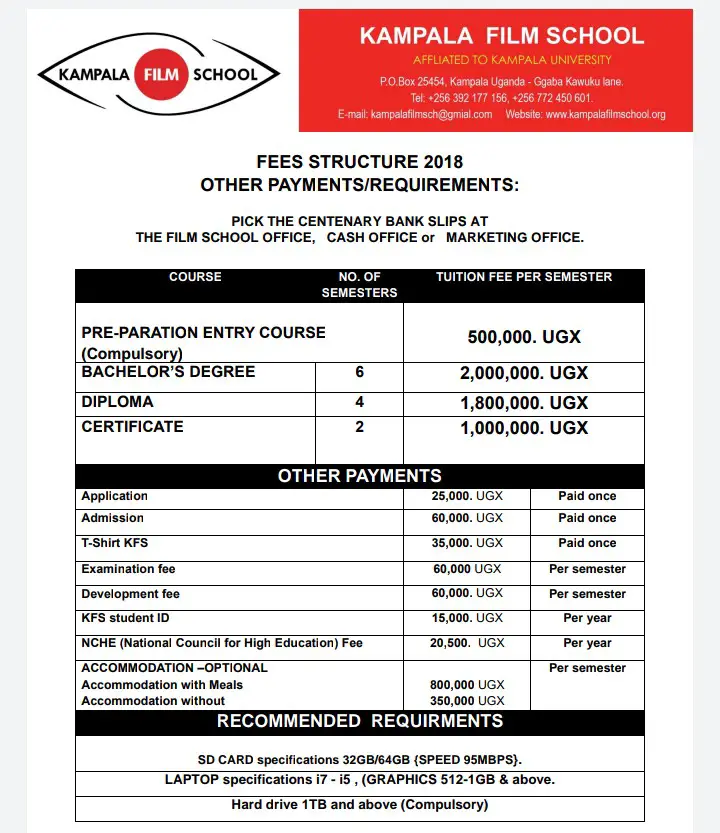 Finally, for more details on how you can easily apply or enroll for a course, kindly contact using the details below.
Contacts
Kampala Film School
Gaba Road At Kampala University
UGANDA, P.O Box 25454
Tel: +256 -392177-156
Email: kampalafilmschool@gmail.com