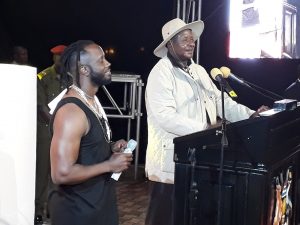 Museveni In Bebe Cool Show Pays All The Bills. First of all, Ugandan singer Bebe Cool is not out of fashion, even despite the Beef with Eddy Kenzo. This is because he is worth an artist and had won many awards nationally as well as internationally. Besides all, Singer Bebe Cool has made our nation proud in terms of arts and culture, i.e entertainment.
For the love of his fans and the attendees, Ugandan President Yoweri Museveni had a surprise for Bebe Cool fans. Kaguta catered for all the bills for the fans during his Golden Heart concert. Above all, mentioned that by any chance any bills were unfloated for, he shall pay them all.
President Yoweri Museveni congratulated Singer Bebe Cool for his consistency in the music and entertainment industry and even mentioned that his favourite song done by Bebe Cool is Kabulengane. Golden Heart concert. Museveni In Bebe Cool Show Pays All The Bills.
More news to follow….