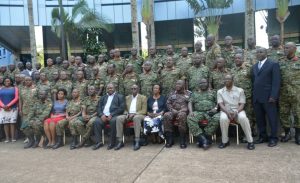 Gen Muhoozi Urges Defence Chiefs To Avoid Wastage of Resources. Gen David Muhoozi who is the Chief of Defence Forces has urged all Commanders and Chiefs to align their plans to the overall Defence Strategy so as not to have the available resources wasted. This follows the frequent requests by the Defence Ministry's on the supplementary costs; hence affecting funding on other departments.
Gen David Muhoozi was in Entebbe on the "Annual Strategic Planning Retreat" where he also urged the Commanders to maintain team spirit and good management practices as part of the UPDF tested revolutionary methods of work. He further added on by saying this;
"Such an undertakings will enable UPDF to deliver on its mandate without going beyond the available budget allocations."
Other officials who attended the retreat were Minister of Defence and Veteran Affairs Hon Adolf Mwesige, Minister of State for Defence – General Duties Hon Col (Rtd) Sam Engola, Minister of State for Defence for Veteran Affairs Hon Lt Col(Rtd) Dr Bright Rwamirama, Permanent Secretary Mrs Rosette Byengoma, Deputy CDF Lt Gen Wilson Mbadi,Senior Defence staff, UPDF Service and Division Commanders as well as Chiefs .