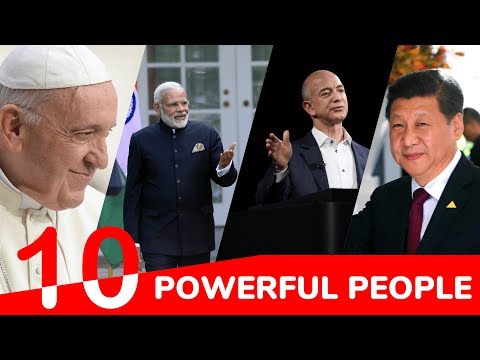 Today, the world has a population of over 7.7 billion people and probably, the figures might be rising if proper control measures are not put into place. First of all, we have numerous top powerful people in all their continents and nations, truth be told. Hence, we are going to discuss and list the top 10 Most Powerful People in the world 2019 2020.
Who is the most powerful man on Earth 2020?
First, our list comprises of a summary assessment from the all-time corners of the World. According to Forbes magazine, Xi Jinping, General Secretary of the Communist Party of China is The Most Powerful Person in The World 2020. In other words, Xi Jinping is the Most Powerful Man in the world today and on Earth for 2020.
It's still a surprise but probably, it might be because China's Congress amended its constitution in March 2019. Certainly, this broadened Xi Jinping influence and eliminating term limits. As a result, Russian President Vladimir Putin (Number 2) has been knocked out of the top rank. However, Putin held in the first position for four consecutive years. President Donald Trump emerges as the 3rd most of the powerful and popular person in the World. In summary, below are is a list of the top 10 most powerful people in the world 2020.
The Top 10 Most Powerful People in The World 2020
| | | | | |
| --- | --- | --- | --- | --- |
| Rank | Name | Title | Country | Category |
| 1 | Xi Jinping | General Secretary, Communist Party of China | China | Government & Policy |
| 2 | Vladimir Putin | President, Russia | Russia | Government & Policy |
| 3 | Donald Trump | President, United States | United States | Government & Policy |
| 4 | Angela Merkel | Chancellor, Germany | Germany | Government & Policy |
| 5 | Jeff Bezos | Founder & CEO, Amazon | United States | Business |
| 6 | Pope Francis | Pope, Roman Catholic Church | Vatican City | Philanthropy & Religion |
| 7 | Bill Gates | Co-Chair, Bill & Melinda Gates Foundation | United States | Philanthropy & Religion |
| 8 | Mohammad Bin Salman Al Saud | Crown Prince, Saudi Arabia | Saudi Arabia | Government & Policy |
| 9 | Narendra Modi | Prime Minister, India | India | Government & Policy |
| 10 | Larry Page | Cofounder & CEO, Alphabet, Google | United States | Business |