Recently, there has been an image of one of President Uhuru Kenyatta bodyguard fake hands circulating on the Internet. This is because the security guard appears to have been a fake arm that has elicited much speculation among Kenyans. President Uhuru Bodyguards are among the best trained in security in the whole of the African continent.
Furthermore, his strange pose while standing next to the president in most occasions in Nairobi has led to much speculation. Probably, he was wearing a prosthetic arm while his fingers on the trigger of his concealed firearm. The stiff-looking security guard in navy blue suit and dark sun glasses, had a glove on one of his left hand. This was when the President was interacting with the public during Wednesday's Jamhuri Day celebrations at the Nyayo National Stadium.
In the viral photo, the bodyguard with fake hands is standing slightly behind President Uhuru Kenyatta. Hence, President Uhuru was seen waving to a cheering crowd behind a steel rail guards. Other suit clad bodyguards are meanwhile standing right next to the rail guards while facing the crowd.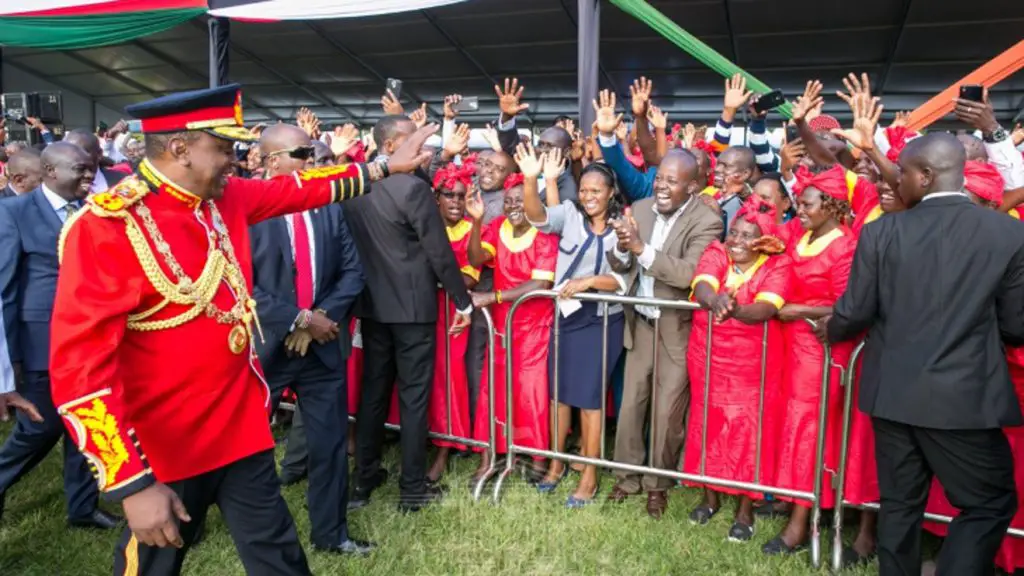 A similar photo of a Secret Service agent was previously shared showing him with what appeared like a prosthetic arms. An example is a photo of a secret service agent standing behind US President Donald Trump and Melania Trump.